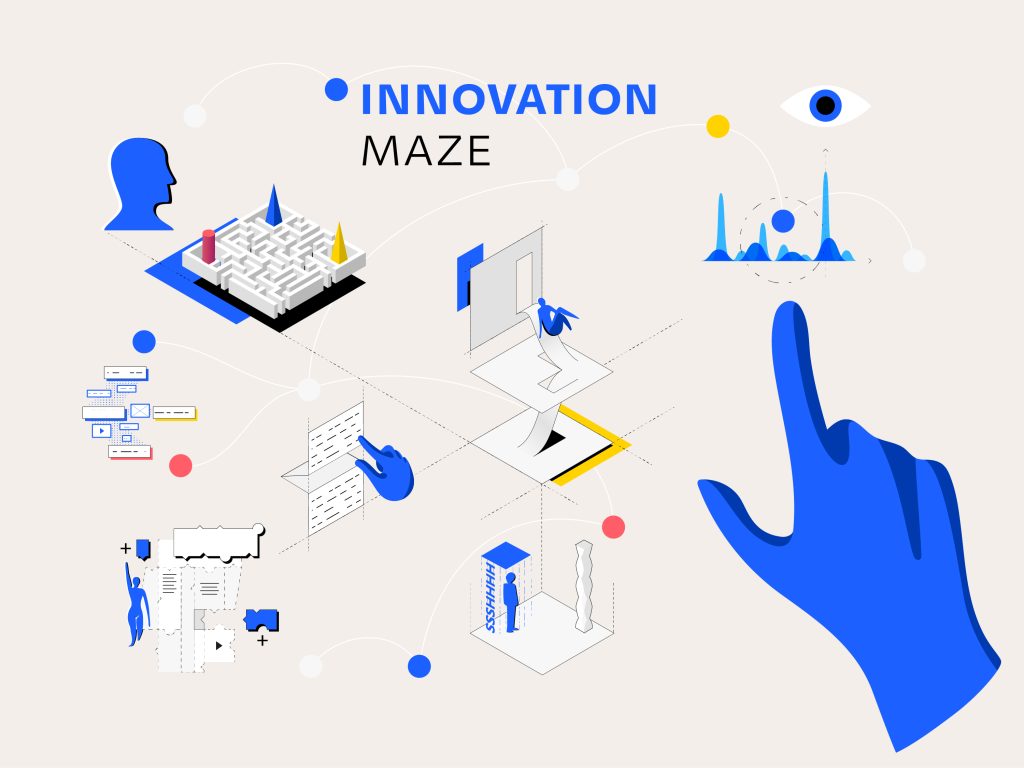 Fridays for Innovation & The Good Database
A SaaS toolkit of innovation building blocks to serve as inspiration engine for social impact projects.
In collaboration with Alexander Davies, Jeffrey Pickett and Helen van Baal. With support from Atomleap, Nesta, Land der Ideen, Dr. Stephann Makri, Nick Coutts, Prof. Peter Childs, Dr. Jonathan Edelman, Nadim Choucair (Global Goals), and Mario Lyon.
Disciplines: Entrepreneurship, Information Architecture, Interaction Design, Product Design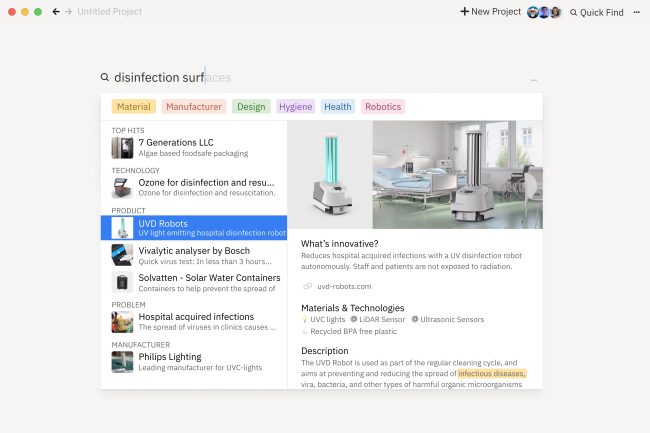 PRELUDE: Why is innovation like looking for a needle in a haystack?
In the first week of our master's program at the Royal College of Art and Imperial College London, we listed the 100 greatest challenges of the planet by urgency. We picked climate change and focused on urban food supply. Our research and experiments yielded promising prototypes, but once we had articulated a design, we discovered other very similar projects, even from students next door.
Why did we not come across these projects in the first place?
Innovation is a journey into an unknown territory with a vague destination, but without a map. One will and must get lost. Only through a serendipitous moment you may stumble upon a ripe idea cross pollinating between domains. That's the status quo some take granted in innovation.
But what if you could brute force innovation? What if you knew the building blocks of innovations? What if you had the entire search vocabulary at your disposal? Better yet, what if you could see the undiscovered edges of a problem-solution space?
Interlinked! Our vision was cast: Instead of solving a specific challenge, we sought to augment our creative problem-solving capacity. Unaware of the work "Augmenting Human Intellect: A Conceptual Framework" by Douglas Engelbart, I coined the term »Augmented Thinking«.
Canvas prototypes with embedded creativity support
CHAPTER I: Augmented Thinking. Everything is a remix. All Design is Redesign.
We already hinted to our first insight that innovations are composed of building blocks. So what's an »innovation building block«? The innovator him/herself? Sure. A new technology or material? Definitely! A creative process or workflow? All of these! Innovations don't emerge out of nothing, but are built upon someone's lifework. The philosopher in me will argue that nothing is original.
But building blocks alone don't make a »successful invention« – aka »innovation«. An impactful innovation combines many »unrelated« building blocks. It's through the »creative« combination of existing blocks on our new challenge that the base for a new innovation is formed.
We can learn two things from this: Inspiration from prior art is crucial for innovation. And innovations have to be structured with deeply interlinked building blocks so we can rapidly remix them as easy as LEGOs. Ideally their connections carry meaning such as similarity and causality.
System Architecture of early prototype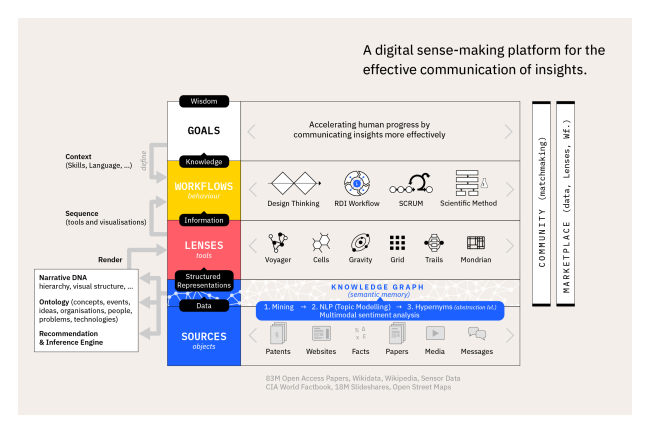 CHAPTER II: The Good Database. Accelerating innovation.
Try googling »all cool innovation projects out there«. Except for maybe patent directories, you'll find an unstructured mess of incomplete articles and paywalled academic papers (PDFs).
This was our opportunity. Building a database of key inspirations, broken down by interlinked building blocks, that accelerate and spark breakthroughs in the creative process.
Through the analysis of hundreds of innovations we identified 15 key building blocks. I then went on to design the schema for these entities and built a knowledge graph (a glorified database with network like structure).
Over a period of several months we built the largest database of annotated innovations to date. We applied a mix of digitisation of books, scraping the web, surveys, crowd sourcing and entity extraction (NLP), manual data labelling, curation and fact checking in our data pipeline.
For our prototypes we used Notion, Airtable, Miro and the Wizard of Oz technique. For the production build we used the graph database TypeDB (formerly Grakn) and React for the web based canvas UI. We also build partnerships with ventures that nurture and facilitate innovations, such as UNDP, United Nations Technology Innovation Labs (UNTIL), Land der Ideen, Global Grad Show and Global Goals Jam.
To accelerate our own process we were accepted into Atomleap's High-Tech SeedLab – a six month program that provides research teams with training and financial support to help successfully launch their businesses.
Knowledge Graph of Innovations
User Interviews and Testing
CHAPTER III: Fridays for Innovation
With the database our seed was planted. Yet we knew it was necessary to provide a variety of innovations across multiple domains to stimulate cross pollination and engineer serendipity. The manual effort of extending the database and keeping information uptodate was financially unsustainable. Without a clear monetisation strategy and business model in sight we decided to closed shop end of 2019, to take a break and refocus into potential new directions.
When the pandemic hit in 2020 and everyone migrated to Zoom and digital whiteboards I saw a chance to test the virtual canvas prototypes I had built earlier and look deeper into the community building aspect for aspiring innovators.
Inspired by the »20% side project time« at Google and Accenture and the Fridays for Future movement, I named the platform »Fridays for Innovation«. The previously built database was a solid foundation to attract and inspire innovators. It allowed me to run weekly impact sprints, where designers, engineers and scientists joined in a virtual gathering to play with and create innovative projects around the SDG's. Instead of a exhaustive one-off hackathon format, participants were building on top of the ideas generated on previous Fridays: leading to an infinite chain of inspiration that was fed back into the database. Pinterest meets Figma with a positive feedback loop.
Designs for Fridays for Innovation
Visit FridaysForInnovation.com to learn more.
My roles in this project were: development of original concept and vision, UI/ UX design, prototyping software development, illustration, branding, pitching to investors and potential engineering hires, data scraping and normalisation, conducting technology and historic research, competitive analysis, legal (incorporation, trademark registration, patent application), film making. The core team consisting of Alex, Jeffrey, Helen and me collaborated on experience and interface design, user research/ interviews and testing, grant applications, roadmap building, strategy, pitch preparation and story telling.